Build A Scene: City
This is an easy to prepare ahead project especially if you keep your scrap paper. You can do this multiple times with different themes.
Materials Needed
Construction Paper (3-5 Pieces)
Scissors
Glue Stick
Crayons
Instructions
Cut different sized shapes out of multiple colors of construction paper
Parents might need to help with cutting. Make them big and small. For circles you can freehand cut it or trace cups, bottle caps, etc.
Tell child to build a city with shapes and glue to construction paper. Houses, buildings, streets, trees, people, cars.
Take crayons and add to the picture.
NOTES: You can use this same idea and leftover shape pieces to make bugs, vehicles, shapes, faces, and more!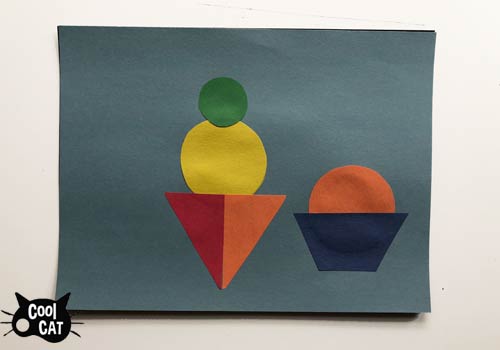 ---
Don't forget to post your pics on Instagram – tag us @coolcatnewark or #coolcatartbag